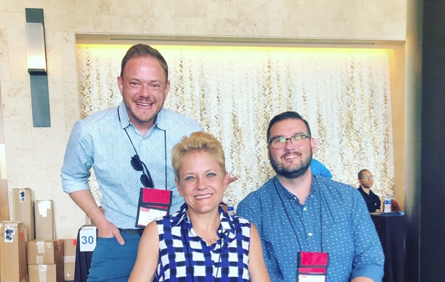 Recently, our Director of Communications & Technology, Tom Jedlowski, attended the annual Americans with Disabilities Act (ADA) Symposium. In honor of the 29th anniversary of the ADA on July 26, Tom's shared his takeaways from the symposium on disability employment. 
On July 26th, 1990 this country fundamentally changed. 
It was a hot, sunny day on the south lawn of the White House. President George H.W. Bush was situated at a ceremonial table, atop a stage riser. A prominent lawyer was on his right, an anti-segregationist, entrepreneur, and activist on his left. Both men used wheelchairs.
A priest, born without arms, hands the president a pen placed between the first two toes of his left foot. 
Using that pen, our 41st president signed the landmark Americans with Disabilities Act, a civil rights law prohibiting discrimination against individuals with disabilities in all areas of public life including jobs, schools, and transportation. 
In June of this year, I attended the annual ADA Symposium. It's an annual event designed to provide the latest information on ADA regulations and guidelines, implementation strategies, and best practices. 
Going into the symposium, I already knew the law made perfect sense for people with disabilities. However, after three full days of sessions and a binder now bursting with slide decks and handwritten notes, I learned it makes even more sense for businesses, especially businesses that want to get ahead, make more money, and thrive. 
Here's why: 

Perceptions
Common perceptions and assumptions of folks with disabilities are short-sighted, if not patently false. While it's true that people using assistive devices such as wheelchairs or service dogs are included in this group, this demographic is much, much broader. Roughly one in four Americans fall under the protections of the ADA, including less obvious diagnoses such as diabetes, cancer, or heart disease. 
Americans with disabilities are the single largest minority group in the entire country. It's not a question of if your employees and customers have a disability, it's how many of your employees have a disability. 
Employees and customers with disabilities strongly support businesses that value, foster, and enforce a workplace culture of diversity and inclusion. If you're not making this group a priority in all areas of business, it's time to start. 

People
People with disabilities experience higher unemployment than other minority groups. 
This may be rooted in stereotypes, fears of litigation, and outright discrimination. Many employers just don't know where to start or where to go when they have questions. 
Your Regional ADA Network office is a terrific place to start (In Tennessee, the Tennessee Disability Coalition is your state-level ADA resource). To be clear, this network is not tasked with enforcing any laws. Instead, they exist to be a resource to all entities impacted by the law. 
Here's some interesting things I learned about employees with disabilities:
-    Employees with disabilities have lower rates of absenteeism.
-    Employees with disabilities have lower rates of turnover. 
-    Employees with disabilities present no greater risk of workplace injury. 
-    If an accommodation is needed by an employee, 59% cost nothing, and the rest typically run about $500. On average, that cost is less than $250. That's less than half the price of a laptop. 
What's more, smart employers are realizing that an employee's greatest strength may be a direct result of their disability. 
For instance, some people with autism spectrum disorder are deeply and importantly talented at deciphering, writing, and designing IT systems and software. Many Silicon Valley companies understand this and have implemented inclusive hiring practices they know they will yield employees with unparalleled skills for computer programming. 
Or, let's say a potential employee experienced a spinal cord injury and uses a wheelchair. Because he or she has to come up with incredibly creative solutions to everyday problems, such that person has a unique worldview and a unique skill set. When that person has to be creative in almost every possible facet of their lives, you can rest assured that creativity will bleed over into the workplace, producing creative solutions to complex problems. 

Profit 
Inclusive businesses are growing at a faster rate than their competition:
-    People with disabilities have over $150 billion in discretionary income. 
-    Companies that prioritize disability inclusion achieved on average 28 percent higher revenue, double the net income and 30 percent higher economic profit margins over a four-year period.
-    Those same companies were twice as likely as others to have higher total shareholder returns than those of their peer group.
If you aren't incorporating inclusive practices into your business yet, you should be. 

As we reflect on the 29th anniversary of the ADA, we see how far we've come with disability employment and how far we still have yet to go. 
People with disabilities are being hired at increasing rates, but issues such as wage gaps and false stereotypes of disability prohibit full participation in the workplace. Accommodations are thought of as nuisances when they can actually help with employee productivity and higher profit returns. The ADA is sometimes seen as the enemy when actually, it ensures every single one of your employees and customers with disabilities feels included and valued as a member of your team.
Together, we can continue moving forward into the future of disability employment, where hopefully one day, ALL employees are valued members of the workforce. 

For more information about inclusive hiring, the ADA, or other disability-related questions, feel free to reach out to the Tennessee Disability Coalition or your Regional ADA Network Office.