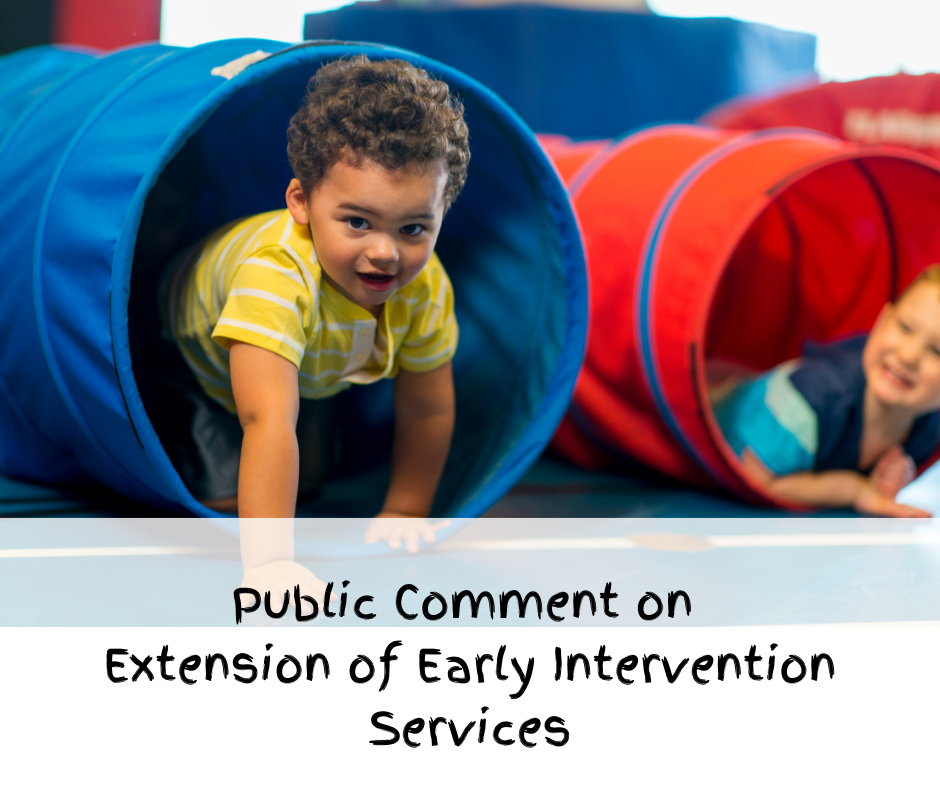 **Submit your comment on the TEIS extended option to DIDD by June 10th by emailing carly.carlton@tn.gov**
Tennessee Early Intervention System (TEIS) has proven an essential building block to the success of our kids with disabilities and delays. The Tennessee Disability Coalition applauds the Department of Intellectual and Developmental Disabilities for its successful advocacy to extend TEIS services beyond the federally required age of three. For many years, families have expressed this wish. IDEA Part B services through the school system are not able to be as flexible or family-centered. For some children with delays and/or disabilities, when TEIS halted at age three so did their progress. 
It is helpful that the option to continue TEIS services will remain until the start of the school year following the child's 4th birthday. However, for some, the remaining gap in time until they start kindergarten will represent an unwelcome and premature transition in services. We would encourage that the kids for whom TEIS works best would continue to benefit from these services until the start of the school year following their 5th birthday.
In schools, services must be tied to educational need. We have heard from families that services like occupational therapy have been denied even though the child needed help developing a skill for home life. Allowing families the option to begin or continue TEIS services for their child beyond age three allows them to build skills to succeed beyond the classroom. 
We are deeply concerned about the children in need of services who have not yet been identified by the age of three. Children from low-income families and in rural or under resourced areas are more likely to be under identified and evaluated later. In the past two years, the pandemic has upended access to early screening. We know we are missing more kids than ever and yet TEIS services will not be offered for those who are identified after the age of three. We also understand that some kids, for example those who experience a traumatic brain injury early in life, may not begin to show delays until after the age of three. Yet beginning services at this time could greatly assist their development. Restricting eligibility for extended TEIS services restricts access for some of our most vulnerable Tennessee children. We strongly encourage that this policy be revised. 
By extending TEIS services, Tennessee will join a small handful of states leading the nation in providing for our youngest kids in need. Those states have seen the benefit of continued early intervention and we trust that our state will soon follow. 
Families are already sharing with us that continuing TEIS services for their child will be a huge benefit, and relief. Those whose child is on the cusp of turning age three fear that they will miss the opportunity for a whole year or more of continued services due to an arbitrary cut-off date 
selected for the eligibility of their child. We encourage that DIDD consider a grace period rather than a hard-cutoff date for eligibility. 
Just as the roll out of the program will take time, informing families of this opportunity will as well. Families of children experiencing delays or disability are in the thick of it. They likely already lead a care team for their child and must navigate what can be overwhelming demands to learn about and make the best care decisions they can for their child.
We would hate for families to miss out on this opportunity because of lack of information or confusion. 
As this change is implemented, we would encourage that training and information be broadly and uniformly distributed throughout the TEIS system. In the rollout of other new service programs, we have seen the detriment for families when there are too few points of access for information and when families get different answers to the same questions depending on the source. 
At a time when staffing shortages are rampant, we encourage cross training and empowering multiple roles within TEIS to lead this implementation and prepare to inform and guide families through this process.
Early intervention can change the entire trajectory of a child's development. By extending TEIS services for children beyond the age of three, Tennessee is investing in the success of children with delays and disabilities and their families.