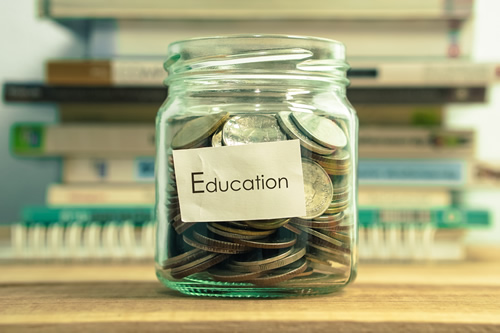 Tennessee uses a funding formula called the Basic Education Plan (BEP) to determine how much money each district and school gets for its operating costs. The BEP is outdated and complex, and contributes to poor outcomes for Tennessee students.
The state is currently in the process of planning a new public school funding formula. The new funding formula created by the state must be equitable and effective for all Tennessee students and schools.
What this Means for Students with Disabilities:
The BEP formula has underfunded services for students with disabilities across Tennessee for a long time
Tennessee students with Individualized Education Programs (IEPs) graduate at a rate 17 percentage points
behind their peers
A new funding model could address these poor outcomes through greater investment in staff, resources and services for students with disabilities

5 Principles for a Fair and Effective Funding Model for Tennessee Students with Disabilities:
1. The process used to calculate funding, the amount given to Tennessee public schools and the reporting on how it is spent should be fair, robust and transparent.
2. Funding models must account for the different costs associated with meeting the diverse and unique needs of Tennessee students.
3. Funding models must ensure the right to a free and appropriate public education in the least restrictive environment is protected for all students.
4. School funds should be flexible and allow for local districts and schools to make local decisions that best meet the needs of their students.
5. Funding models should have strong monitoring controls that ensure that funding provides equal opportunities for a high-quality education.
How the BEP currently works:
The BEP is considered a "resource-based" funding model, which means that it uses a ratio (ex. 1 staff per 30 students) to determine what resources go to schools
Schools are assigned a number of staffing "positions" based on the BEP's ratios and the school's enrollment and attendance during the previous year
Each position, like a teacher, paraprofessional, counselor, etc., is assigned a "salary unit cost," or the amount that the state will provide to the district and school to pay for each position

Based on the previous year's enrollment and the BEP's ratios, the "salary unit costs" are added up into a pot that is then available to the district to spend

Most local school districts have to add to the money they get from the state government through the BEP with local funds (through taxes, or other means)

In 2015-2016, the BEP funded 63,131 instructional staff across the state, but local districts employed 73,848 instructional staff - meaning that local taxes paid for an additional 10,000+ teachers
This shows that the BEP funding formula does not meet local needs

The BEP does not work for Tennessee schools and students, and should be replaced with a new funding model that meets the modern educational needs of the state

A possible model for funding Tennessee schools:
Weighted funding formula – a weighted funding formula provides funds based on individual student needs, rather than allocating resources based simply on attendance

Typically, a weighted funding formula will add "weights", or set rates of increased funding, for student needs that typically cost more to provide

For example, some students with disabilities need paraprofessionals to support their learning in the classroom – a weighted funding formula would take this into account and provide the public school more funding to support the students with this need
Other examples of weights added to the formula are for services to meet the needs of students who are economically disadvantaged, English language learners, live in rural areas, etc.

Weighted funding gives more money to schools to spend on resources for students with greater need. This helps close the achievement gap between students with lower and higher needs.
Weighted funding formulas are used by at least 29 states. Resource-based funding models, like Tennessee's BEP, are only used by three other states.

How to get involved:
Submit a public comment

The Tennessee Department of Education is soliciting written public comment from stakeholders describing priorities for a new funding formula.

This is a great opportunity to let the DOE know that there is a large constituency of stakeholders in the disability community that are watching the progress of this effort
Send comments to: TNEdu.Funding@tn.gov

Write your legislator

It is very likely that legislation reforming the BEP is introduced in the upcoming session starting in January.

Letting your elected official know that any new funding formula must prioritize access to a quality education for students with disabilities elevates our voice in the General Assembly.
Find your elected officials here: https://wapp.capitol.tn.gov/Apps/fmlv3/districts.aspx

Sign on to our 5 Principles

We believe that the 5 Principles listed above should be a guidelight for developing a new funding formula, because when we account for the unique and diverse needs of students with disabilities, we are better able to account for the unique and diverse needs of all students

Sign-on materials will be available before the beginning of the 2022 General Assembly Session

Attend the School Funding Bootcamp and disability team strategy session

The Ed Trust of Tennessee is hosting a Public School Funding Bootcamp to help stakeholders learn more about how schools are and could be funded.
Following the Bootcamp, national funding experts will support our team in developing an advocacy strategy for a new funding formula

Stay tuned to TDC for updates

Sign up for policy updates, keep an eye out for email updates and follow us on socials to stay up to date on the latest developments in BEP reform
Reach out to me directly at: jeff_s@tndisability.org