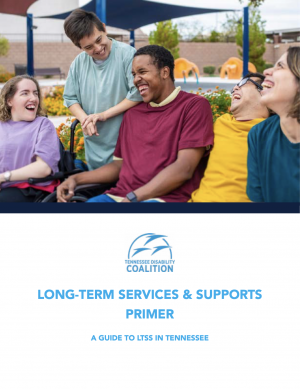 Nearly one in three Tennesseans lives with a disability. Some of these individuals need assistance with activities of daily living, others may need help with transportation and still others may need support for housing or employment. These types of support allow Tennesseans with disabilities to live in their communities, to be included in our society and to lead lives of their choice.
To provide this help, the state of Tennessee offers Long-Term Supports and Services (LTSS) programs. Tennessee's LTSS offerings are part of several Medicaid waivers that provide Home- and Community-Based Services (HCBS) for Tennesseans with disabilities.
These waivers represent a partnership between the state of Tennessee and the federal Centers for Medicare and Medicaid (CMS). CMS matches state funding for programs that provide HCBS for people with disabilities, and the agency sets some general guidelines about how states should provide HCBS. Ultimately, however, each state has a great deal of flexibility in designing the programs, determining who is eligible, deciding what services will be available and how they should be delivered.
Tennessee's HCBS programs are the result of the movement to deinstitutionalize individuals with disabilities by developing alternative means of community living with support. The state's first HCBS waiver for individuals with intellectual disabilities (ID) was approved in 1986. A small waiver for children, and the conversion of state-funded services for adults with ID eventually became what is now known as the "Statewide Waiver". In the following years, the state would expand access to HCBS by creating other waiver programs.
TennCare is the state agency responsible for Tennessee's Medicaid programs and for the HCBS waivers. TennCare contracts with the Tennessee Department of Intellectual and Developmental Disabilities (DIDD) to implement three of the waiver programs for people with ID.
Over the years, there have been changes to the ID waivers for a variety of reasons, including a moratorium placed on services by the federal government because of deficiencies in the system, civil rights lawsuits, state comptroller report findings and changes in federal rules for HCBS settings.
During the same time, TennCare also developed HCBS waiver services for adults with physical disabilities and seniors. Limited HCBS waivers in a few areas of the state were eliminated when the General Assembly directed TennCare to develop a more comprehensive system. In 2010 the CHOICES program began implementation.
Following a 2013 Tennessee Comptroller's audit report, DIDD collaborated with TennCare to redesign the state's ID services delivery system which addressed issues identified by the Comptroller's office. Tennessee developed and submitted a new waiver program to CMS, called the Employment and Community First (ECF) CHOICES program, which was approved in 2016. On June 30th, 2016, the state closed enrollment in the three existing DIDD Medicaid waivers and directed new referrals to the ECF CHOICES program.
The ECF CHOICES program is designed differently than the closed Medicaid waivers. TennCare administers the program, but it has delegated key functions to DIDD and three private managed care organizations. Today, the state offers services across three waiver programs and one state-funded support program. They are: ECF CHOICES, CHOICES and the Katie Beckett program, and the state-funded Family Support Program. Each program is intended to support an individual's independence and their integration into the community. The programs use a person-centered planning process to identify services to be included in each waiver participant's Individual Service Plan (ISP), which is based on the individual's goals and the supports necessary to achieve those goals.
Download the Long-Term Services and Supports Primer: A Guide to LTSS in Tennessee in pdf or text-only