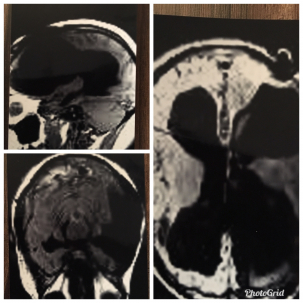 At 24 years old, Kali was an outgoing, friendly mother to a toddler. She played softball and enjoyed bowling in her free time after recently finishing her communications degree. For Kali and her family, everything changed the night she left a concert and avoided a head-on collision, where she smashed into two trees and was knocked unconscious. The long haul to recovery began.
        Immediately following the accident, the doctors performed an emergency craniotomy. They did not expect her to live. After being in a coma for a month, she went to rehab for three months, where the doctors placed a shunt in her brain. Shortly after, the shunt malfunctioned and collapsed the brain. Every advancement Kali had made in rehab was lost. 
Eventually, she was able to communicate again with shaking her head yes and no. She continued to lose more brain matter, which resulted in a 10-month journey of getting her brain pressure closely back to a functioning level. Her brain today is 25% fluid.
       "She technically died three times after more damages occurred. It was one injury on top of another. It's a miracle she's here today," Linda, her mother, recounts. 
         After numerous infections that followed these months of recovery, she finally returned home 16 months after the accident. Linda worked full-time while Kali was in the hospital. She hired help to take care of her around the clock.
      "At the hospital, the hired help watched Kali at all times, keeping her showered and dressed and giving her the care that would keep her in excellent shape. They also kept us informed of anything that was going on. I was lucky enough to have the funds to hire people to help when she returned home while I continued to work."
       Linda also added more accessible additions to her house to assist in the process of taking care of Kali. All of the new adjustments took a toll on the family, disrupting their privacy and emotional wellbeing. Since Linda was a special education teacher and had experience working in healthcare, she knew what to expect, but Kali's sister and father did not. 
       It's now been 11 years since Kali has been living with her mother. During her recovery, she has needed many different kinds of therapies, trips to the emergency room, has experienced side effects from her medications and other setbacks. 
       "Kali's humorous and smiling personality remain the same, which is a miracle after such a long hospitalization and a number of seizures. She has cortical blindness, struggles with the effects of a left-sided stroke and is still struggling to walk. She has attended many different therapies. The insurance companies did not want to keep paying for her slow progress, so she did not get every service that could have helped her. She can't be left alone due to short-term memory loss."
        One of the greatest obstacles Kali faces is when hospitals or other programs write her off due to her brain injury. 
       "At first, after she was home and slowly recovering, they wanted to put her in a maintenance program. Once Kali could speak again, she told me she didn't want to go into that kind of program because nobody would talk to her.  Sadly, many programs do not keep people occupied and stimulated. People don't realize what's still inside her. Community is so important, not just for Kali, but for others in recovery as well."
       Kali's family tries to keep a good amount of social interaction with her at home, which has proven to successfully help in her healing process.
"The loss of friends and social interaction hinders a person's recovery, so community integration and involvement is crucial."
         Linda also notes that accessibility is a barrier for Kali – with the family's recent move to Tennessee, searching for houses that accommodated Kali's needs was a challenge. In addition to finding accessible spaces, Linda has experienced battles with her insurance company. She has fought for Kali to receive in-home care and other aids. 
       "Keeping Kali at home with me has saved Kali's life. If she had gone to an institution, I don't think she would have made it. There are other things I've had to push for as a parent, basic things that should just be understood as necessary to help Kali thrive."
        Since Kali's accident, Linda has made it a priority to speak with teenagers and drivers who have been convicted of driving under the influence about the impact one moment of a poor decision can have on someone. She hopes that by talking with these groups about her daughter's experience, more drivers focus on the wheel.  
        Kali still laughs and enjoys life every day, despite her physical limitations. She tells her family all the time, "I'm thankful to still be alive." Linda has been in contact with Brain Links for access to resources since she and Kali first planned their move to Tennessee.