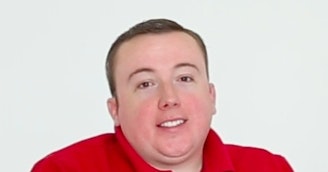 Evan Espey enjoys cheering at sporting events, spending time with his nieces and volunteering for political campaigns. He also plays on a basketball team that tours the Southeast United States, racing across the gym floors in a wheelchair alongside his teammates.
Born with Spina Bifida, Evan has become a self-advocate. He currently serves on the Tennessee Council of Developmental Disabilities, offering a unique point of view to vital conversation surrounding the supports and services of people with disabilities.
"I've learned so much about advocacy through serving on the council and my everyday work at the Technology Access Center. I've tried to be involved as much as possible," Evan commented.
Evan meets daily with parents who voice their frustrations over the lack of accessible technology and other resources that could be used to better equip their children in the classroom. Because of these meetings, he wants to not only advocate for better educational supports, but he also wants to empower these parents to advocate on behalf of their child.
"It's important to get resources for these kids so that they can be independent in their learning processes and educational journey. I'm the son of a career educator, so implementing transition services and offering accessible tools to assist in these transitions towards employment is something I care about."
He firmly believes in the necessity of providing accommodations for students that will help them succeed in school and beyond. One of his wishes is for unlimited funding so that the appropriate tools can be given to the students who need them.
"It would be great if funding was never a hindrance, if it was automatically available whenever we needed it for these transition or accessibility projects."
Evan played a part in advocating for funding for Lipscomb University's postsecondary transition program, which has placed many students in internships and jobs following graduation.
Today, Evan can be found speaking as a panelist in advocacy discussions or working on the development of accessible toys and other tools for students.