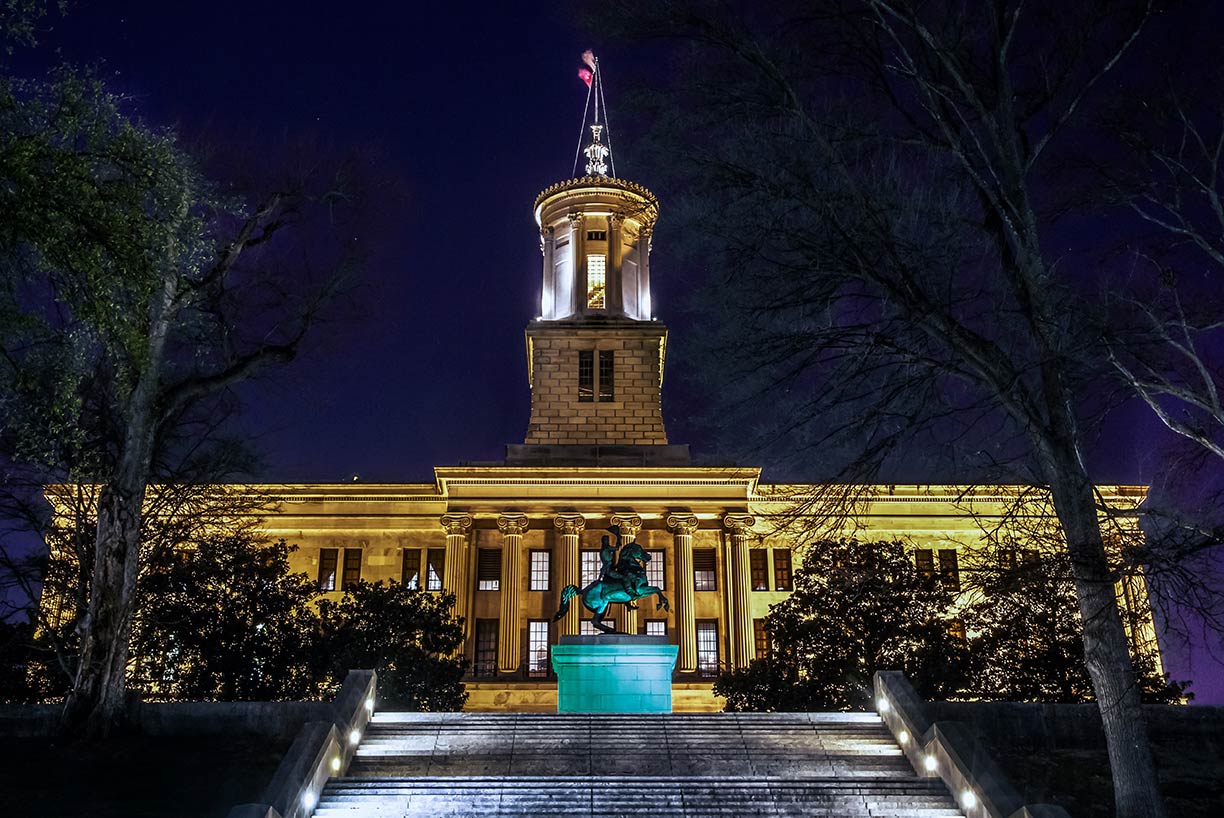 On August 8th, Governor Bill Lee called upon the General Assembly to convene for a special session on the topic of "public safety". The call for the special session was made, in part, in response to the March 27th school shootings at the Covenant School in Nashville. His special session proclamation set the bounds of appropriate legislative topics that could be discussed and debated, from resources for mental health to juvenile justice to records and reporting requirements.
Not all Tennessee legislators were enthusiastic about the call for special session. Near the end of the regular General Assembly session in April, Governor Lee asked the legislature to discuss an "extreme risk protection order" (or ERPO), which would have allowed concerned citizens to inform law enforcement about the potential for violence or self-harm, and for law enforcement to potentially remove weapons from that person. The proposed measure was widely criticized, with some arguing that it was unconstitutional and others arguing it didn't go far enough. Thus, the proposal was never introduced in the legislature.
It is in this context that the special session began on August 21st, with the expectation that it would proceed for three days. As the proposed legislation flooded in, it was becoming clear that the state House and Senate had different ideas about how they wanted to approach the special session. The House proposals were wide and far reaching, where the Senate proposals were narrow and constrained. Ultimately, these differing approaches led to a sort of cold war between the two chambers of the General Assembly, and extended the special session into the following week.
Despite the dramatics of the General Assembly, one of the biggest takeaways from the ordeal was the success of citizen advocacy. Primarily, the biggest win was a substantial one-time funding injection for a variety of mental health-related services and supports. The special session budget appropriation bill, which is one of only four bills that passed both chambers and allotted funding related to the special session, was most relevant for the disability community. The bill provided:
$1.1 million for a public service campaign urging Tennesseans to safely store their guns
$10 million for school safety grants
$50 million for community mental health agencies
$12 million for sign-on and retention bonuses for providers under the Department of Mental Health and Substance Abuse Services
$3 million for scholarships to Tennesseans pursuing degrees in behavioral health 
$4 million for the behavioral health safety net
$30 million for higher education safety grants
Only 3 other non-appropriations bills passed both chambers: 
HB7012/SB7085 provides free gun locks and permanently eliminates the sales tax on gun storage and safety equipment
HB7041/SB7088 requires the Tennessee Bureau of Investigation to submit a report on human trafficking
HB7013/SB7086 requires faster reporting on the final results of a criminal hearing
The success of advocates in securing much-needed funding to support mental health services is clear in the appropriations bill. However, a lot of the advocacy success found in the special session was also the prevention of other, more harmful pieces of legislation. There were numerous proposals that would have threatened harm to members of the disability community, including bills increasing penalties for juvenile offenders, the construction of large-scale psychiatric institutions, involuntary commitment, mandated reporting from health professionals and increased penalties for threats of mass violence.
Where the prevention of this harmful legislation is certainly a success for disability advocates, other advocacy efforts, particularly around public safety, were less fruitful. The Governor's earlier ERPO proposal, more forceful legislation on safe gun storage, enhanced penalties for coercing minors to commit gun offenses and expansion of Medicaid for behavioral health services, among many others, never received serious consideration from both chambers. 
On the whole, legislators proposed 223 bills to be introduced during the special session, and only 97 of them received both a House and Senate sponsor. Considering the pressure that legislators will almost certainly feel from advocates on all sides, the expedited nature of a special session and the fact that only 4 bills ultimately passed, we should be prepared for a lot of these proposals to reemerge for the 2nd year of the regular General Assembly session in January. A few of these bills have similar aims, so here are some of the biggest policy topics from the special session that I expect to see carry over into January:
Threats of mass violence – more than one bill has increased penalties for multiple "types" of mass violent threats. 

We in the disability community know that threats can be a form of communication, and that this communication most often lack sintent – these laws would further criminalize that behavior, including, in some cases, for minors

Duty to report – multiple bills also increase requirements for who must be required to report threats of violence, to whom is must be reported and for what types of threats

Some bills reduced the legal threshold for the requirement to report, making reporting of unserious threats mandatory

IMD Exclusion – this is a single bill, which would have directed TennCare to submit a waiver to build large scale psychiatric institutions

This type of bill opens the door to a return to institutionalization of people with disabilities and/or mental health needs, and permits TennCare and other state agencies to forego program and service improvement in lieu of institutionalization

Guns on school campuses – a couple bills increased the scope of who can carry concealed firearms on school campuses or at school events

The proliferation of guns in confined, specified spaces poses a threat of harm to all Tennesseans, but especially those with disabilities, given the general lack of understanding around the functions and manifestations of disabilities, particularly for children

Juvenile justice issues – there were multiple bills that would have enhanced criminal penalties for juveniles, transferred them to adult court or prohibited expunging records upon reaching the age of 18

Young people with disabilities are disproportionately caught up in the juvenile justice system, and this entanglement limits access to the types and extent of supports and services they receive, the quality of their education and their opportunities for success

School safety – legislators introduced a number of wide-ranging bills under the auspices of school safety, including funding for security guards and school resource officers, updated school alarm procedures, funding for more school counselors, school safety audits and funding for school "hardening" measures

School safety is an important and laudable goal, but often these well-meaning efforts do not account for the needs of students with disabilities and inadvertently put them in a position of potential harm 
Ultimately, the August 2023 special session did not accomplish much in the realm of public safety. Instead, it demonstrated deep divisions among policy-makers, advocates and the general public about how to best achieve a safe state for all Tennesseans. That said, advocates were quite successful in derailing proposed legislation that would have caused disproportionate harm to vulnerable Tennesseans, including those with disabilities. It's all but certain that this is not the end of our state's conversation about public safety, and between now and the end of the 2024 General Assembly session, we should expect to hear the debate grow louder.