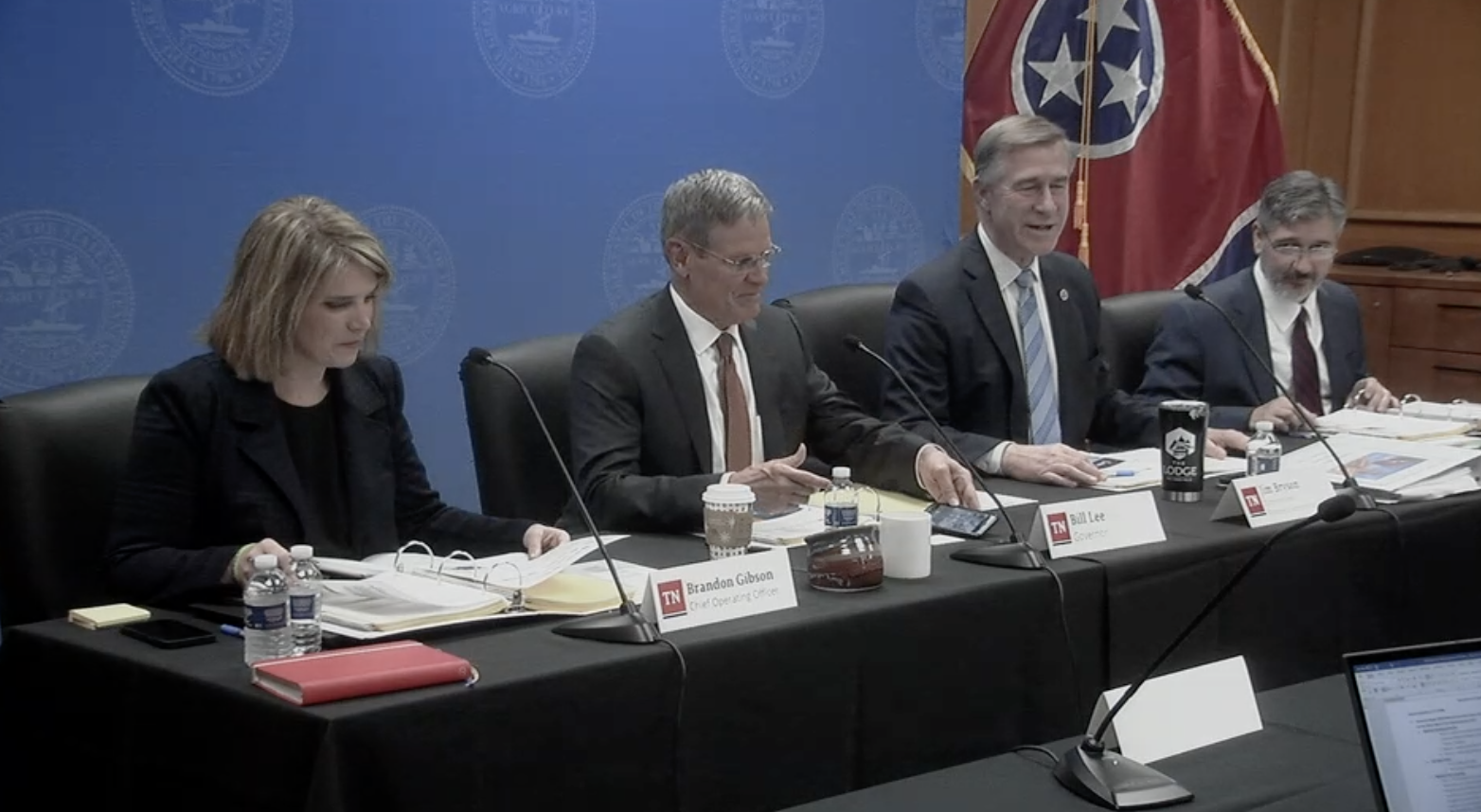 Last month, Governor Lee called on the Commissioners of state departments to present their 2023 budget requests and efficiency plans. As the uncertainty of state finances in the wake of expected Covid-19-related economic disruptions recedes further into the past, state budget hearings have somewhat returned to normalcy. In spring of 2020, Governor Lee asked state departments for their proposal to cut their spending by 12%. By contrast, in 2022, Governor Lee is asking proposals for 1% reductions, which his administration has called "efficiency plans". 
More importantly, however, state departments have been able to refocus on new budget requests that far outpace the proposed spending reductions found in department efficiency plans. These departmental budget requests can give advocates some insight into how our Commissioners and their teams are thinking and what their departments are prioritizing. For example, during the budget hearings last year, the Department of Developmental and Intellectual Disabilities (DIDD) requested an expansion of the Tennessee Early Intervention System to age 5, and TennCare requested funds to expand dental coverage to all Tennessee adults with Medicaid. DIDD got funds to extend to TEIS to age 4, and TennCare received funds to fully implement an adult dental benefit.
During the 2022 fiscal year, which ended in June, the state of Tennessee brought in an additional $4.6 billion in revenue over its projection. In April, the General Assembly and the Governor allocated and additional $3 billion in its final budget, leaving $1.6 billion in surplus revenue. This continues a trend going back several years of multiple billions of dollars in surplus revenue, which have allowed the state to pursue multiple priorities, as well as grow the size of its "rainy day fund". This windfall has given state departments the opportunity to make substantial requests to fund their preferred initiatives.
These annual surpluses also give advocates the opportunity to dream big. Thus far, the state has brought in a surplus of $408 million dollars during the 2023 fiscal year. The Lee administration has already hinted that they would use some of the state's surplus to contribute to a new Titans stadium, but both past and projected surpluses largely remain unappropriated. In looking at the following budget hearing recaps, I urge you to consider how our state department's priorities align with your own, as well as how you can advocate for them to adopt your priorities. Dream big!
Division of TennCare

TennCare Director Stephen Smith once again brought his team along to present the department's 2023 budget proposal. As he did last year, Director Smith begins by highlighting TennCare's ability to slow enrollment growth and limit spending over the past decade, saying that savings produced by TennCare impact all of state government because it allows the state to spend on other priorities. For example, Smith cites the $1 billion investment in public schools passed by the General Assembly last year, arguing that it would have been unaffordable with higher state spending on TennCare.
Smith notes that Tennessee leads the nation in limiting the growth in the share of state budget that funds Medicaid. He says that had the growth trend had matched the national growth average since 2012, the state would have spent an additional $5 billion over the past decade. Further, without TennCare's savings, Smith says, the state would have had to raise taxes of cut services. It's again worth noting here that in fiscal year 2022 alone, the state had nearly $5 billion in surplus revenue that was directed elsewhere. 
Smith goes on to say that TennCare, despite its record in limiting growth, has actually increased access and equality. While it is true that the state has pared down the waiting lists for enrollment in waiver programs, some Tennesseans with disabilities and their families have had to wait upwards of 6 months to access any of the services provided by the waiver. Here he acknowledges the real struggle that providers are facing in making services available to those enrolled in waiver programs, citing workforce shortages and the impacts of inflation. This is indeed a nationwide issue, but this can't be an excuse for TennCare.
In talking about growth, Smith and his team discussed the impending end of the public health emergency (PHE), and the rules that accompanied it. During the PHE, TennCare's rolls grew by almost 300,000, Smith said, and that when the PHE ended around spring of 2023, it's likely that that number would decline significantly. The team noted that TennCare has done outreach to members in order to get updated contact information, and that this was required to maintain eligibility. 
Zane Seals, the TennCare CFO, introduced the department's line item budget requests. Importantly, TennCare is requesting to expand their behavioral health services by expanding its mobile crisis center program for the second straight year. TennCare is also requesting another increase in provider reimbursement to increase the front line direct support professionals  (DSP) wage from about $13.75 to $14. This rate would still be below the 2021 national average for DSP wages by $.27. Other funding requests include dollars to expand TennCare's Health Starts Initiative, to hire for LTSS and adult dental benefit support positions, to support the state's hospital network and to account for inflation. 
Department of Education
Following the successful passage of the Tennessee Investment in Student Achievement Act (TISA), which reformed the state's public school funding model, Commissioner Penny Schwinn and her team, had comparatively smaller ambitions for their budget requests this year. The presentation began by presenting some highlights from the past year (beyond TISA). Schwinn noted the popularity and expansion of the state's Reading 360 program, which provides grants to districts in support of the state's literacy initiatives. She also highlighted the Tennessee All-Corps program, which provides grants for supplemental small group math and literacy tutoring at the school level, mentioning that the program now has 150,000 seats available for participation. 
As Schwinn did last year, the summer learning loss and bridge camps were emphasized as a big success in its high levels of enrollment and academic gains made by participants. Schwinn noted the increased access to Advanced Placement courses through its free, online program, as well as the state's innovative school model program, which provides schools funds to implement novel academic and trade programming. Other highlights from the Commissioner included the state's policy to pay for students to take and retake the ACT and the state's Grow Your Own program, which supports unlicensed school staff in becoming qualified teachers.
Given the large investment in TISA in 2022, the department more targeted budget requests this year. The largest request was a "placeholder" cost to implement TISA – the department said that it doesn't have enough data about enrollment and student demographics at this point to give an exact number and, with a little pressure from the Governor, promised to get it to the administration soon. Schwinn also requested funds to expand several of the programs they highlighted as successes at the outset of the hearing, including $5 million each for the Grow Your Own program and AP access for all students, as well at $10 million each for bus transportation for the department's summer academic camps and the Tennessee All-Corps tutoring program. 
Of note for the disability community were a couple things, including $180,000 for Tennessee School of the Blind endorsements (which wasn't discussed), as well as shifting $18 million for pre-k special education services from the school funding model (TISA) to its own line item. It's important to note that this does not represent an increase in funds for pre-k special education, it simply removes the cost from TISA and makes it a line item. 
It's concerning, especially given the size of the budget request ($341 million in total), that there are no initiatives directed at improving special education services and the educational experiences of students with disabilities in the state. Last year, the state was cited by the federal Department of Education as "needs assistance" in implementing IDEA in the state. Less than 5% of high schoolers with IEP were found to be proficient in reading, and less than 2% were found proficient in math. There's a substantial shortage of qualified special education teachers and an even bigger shortfall in IEP school-based service providers. Simply put, special education in Tennessee is not ok and this budget request does not reflect that reality nor express the urgency of the crisis. 
Department of Intellectual and Developmental Disabilities
DIDD was represented by Commissioner Brad Turner and his team again this year to present their budget request to the Governor. Turner began by noting some programmatic highlights of the last year. First, he discussed the rollout of the Medicaid Alternative Pathways to Independence (MAPS) program, which began enrolling participants at the beginning of November. At the time of the hearing, Turner said that demand had far outpaced their expectations and that their target enrollment goal of 450 for the first year would likely get met.
Turner then shifted to discussing DIDD's TN Start Assessment and Stabilization Team, which consists of small clinical teams across the state that can quickly mobilize to support individuals in crisis. He said that the team intervenes in the person's home to help avoid the need to involve law enforcement or the potential for institutionalization. The team noted that the program has been successful in diverting about 8 out of every 10 crises from more extreme measures, a stat they describe as "unfathomable". 
Turner also mentioned DIDD's ongoing efforts of "program alignment", sometimes referred to as "integration". This was a process that began 2 years ago, but has been slowed by the concerns of advocates and a review of its initial approval by CMS. Advocates have said that integration would likely result in lesser availability of services, a narrow array of services and a move away from person-centered planning. Turner suggested that CMS approval is "imminent", though it seems as though, without making changes to the program to address advocate concerns, any near-term approval is unlikely.
Finally, Turner went over the expansion of Tennessee Early Intervention Services to age 4, which was a big budget request in 2021. Recognizing the consistent growth of the program, Turner said, made the age 4 extension make sense. Currently, the program serves about 11,000 Tennessee children, and the extent of enrollment and the success that kids in the program have seen is reflective of DIDD's excellent work, said Turner. With that, the DIDD pivoted to their budget requests, which included a further expansion of TEIS to age 5 (which was their initial request last year). Most of the cost of the extension, Turner said, was to hire additional staff to support higher enrollment in the program.
DIDD also asked for a provider rate increase of $6.6 million for nursing rates and independent support coordinators (ISC's), increases to the salaries of social counselors to match the rate of Katie Beckett and waiver program positions and a new associate counsel for the West region. Once again, Turner and DIDD requested funds to raise the wages of direct support professionals (DSP's), this year from $13.75 per hour to $14. Turner discussed a revenue realignment for the Harold Jordan Center, which woujld reduce its use as an intermediate care facility and stabilization center to focusing on its Forensic Analysis Unit work, which supports individuals with disabilities in legal proceedings. Of further note, DIDD requested to open an additional seating and mobility clinic, hire for program alignment/integration and increase the capacity of the state's regional crisis units to make it available to all DIDD program enrollees. 
While Turner did not go into the specifics of the department's proposed efficiency plan, he noted that cut costs exceeded new budget requests. He notes that no direct services will be aversly impacted by the efficiency plan, citing his department's vision and Lee's leadership. This is concerning, especially considering that he did not go into detail about what that entailed. Expanding programs and access is important (and welcome), but ensuring that the programs the department already operates are effective and efficient is also important. Making sure that reimbursement rates can ensure that participants can actually access services provided in the program is important. And addressing the workforce crisis through higher wages and creative recruitment is important. Thus, it's disappointing that DIDD will go forward with a smaller budget than in fiscal year 2022, especially given the state's rosy economic outlook.

I encourage you to look at the proposals above and view them as "values" documents. These proposed budget items and proposed budget cuts represent what these departments care about, and what they do not. There is no gloomy reality for the state to deal with when it comes to spending tax revenue on its citizens – we are flush; it's about committing to improving the lives of every Tennessean and building a state that works for all. In that light, it's also important to note that these are only budget proposals, and the course of the next several months will determine what the General Assembly and Governor ultimately pass as a final budget. The coming months will be our opportunity to push for a better Tennessee and push for a values document that reflects the needs of our community and our vision of a better life. 
If you have any questions at all about these hearings, or any of those not summarized here, please reach out to me at jeff_s@tndisability.org.