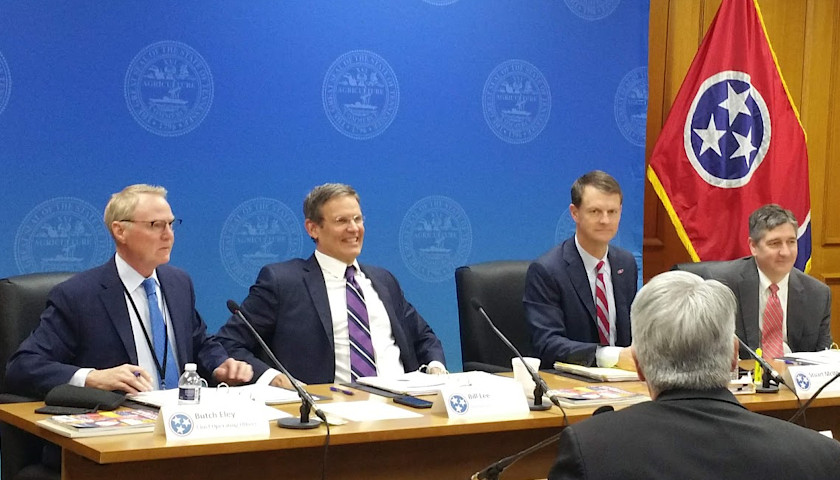 Last year, when the heads of Tennessee state departments and agencies met with Governor Bill Lee, Finance and Administration Commissioner Butch Eley and state Chief Operating Officer Brandon Gibson to propose their 2021 budgets, the world was a different place. The Governor had at that time requested that the heads of state agencies identify 12% across-the-board cuts to their departments for the 2021 fiscal year, and an additional 2% cut for fiscal year 2022. With the full scope of the state's budget surplus yet to be determined, the financial outlook for the state spending was looking austere. 


As the same parties got together this week to discuss their proposals for 2022 budgets, the outlook for state spending was comparatively rosy. Even after spending almost $900 million on incentives to lure the Ford Motor Company to the Memphis Regional Megasite to build a $5.6 billion electric vehicle battery plant and attendant campus, the state may still have up to an additional $3 billion in surplus tax revenue to spend next year.
On top of the state's revenue surplus, Tennessee has received upwards of $65 billion in federal funds related to Covid-19 relief legislation since early 2020, about half of which was distributed during the 2021 fiscal year. Given that much of the federal Covid-19 relief funds have mandated spending timelines, departments made ambitious spending proposals using those federal funds. As per tradition, however, Governor Lee has asked the department heads to identify 1% cuts that would improve "efficiency."
While Tennesseans with disabilities had every right to be concerned about potential cuts during last year's budget process, looking ahead they can feel optimistic about the prospects for real investment in projects intended to benefit them. 
TennCare
Director Stephen Smith, Long-Term Supports and Services Chief Patti Killingsworth, COO William Aaron and CMO Dr. Victor Wu presented TennCare's proposed budget. Director Smith began with a short history of TennCare usage in the state, noting that in the 90's and early 2000's, TennCare's cost growth was annually in the double figures. Since that time, however, the implementation of cost controls and changes to reimbursement formulas have helped limit growth to less than 4%. 
Further, the state has one of the lowest Medicaid per-capita spending rates for recipients with disabilities in the country, and has not raised provider reimbursement rates for home care in the CHOICES long-term supports and services program since its inception 11 years ago. While managing growth in the cost of providing these programs and services makes sense, doing so at the cost of access, availability and quality does not.
Director Smith also discussed the swelling Medicaid ranks in the state, pointing to the federal moratorium on disenrollment from the program. He noted that the state has added almost 300,000 Tennesseans to its rolls since the beginning of the Covid-19 public health emergency. He expects enrollment numbers to peak in early 2022, and to go down dramatically from there as they spend the next 12 months or so engaged in the redetermination process. 
In highlighting some positives from the past year, Director Smith pointed to the state's Katie Beckett program as it approaches one year since the beginning of enrollment. LTSS Chief Patti Killingsworth said that TennCare has enrolled and is now providing services to about 1,050 Tennessee children with disabilities through the program. We would note that is far below the legislature's goal to serve 3,000.
TennCare and the state have and will continue to have a lot of money to invest in programs for Tennesseans with disabilities. Their budget proposal highlights: 
Extensions to maternal health coverage including dental benefits
Investments in mental and behavioral health services, including an to increase the number and type of available providers and a new workforce development initiative 
Adding 2,000 Tennesseans who have been on the waiting list to TennCare's ECF CHOICES program. 
While it is wonderful and long overdue that these individuals have an opportunity to access services in ECF CHOICES, TennCare must also make new investments in increasing provider reimbursement rates and addressing the workforce crisis in order for there to be services in the community for these newly enrolled folks to actually benefit from.
Director Smith also expressed his excitement about TennCare III, the state's new block grant funding mechanism approved by CMS at the beginning of 2021. One of the key components of TennCare III is the prospect of "shared savings," or money left over from the "block" of Medicaid funds provided by the federal government and matched by the state. Smith said, "some are having a hard time understanding how we can achieve shared savings without cuts or reductions in our budget, and that's not what this is about. If we can simply mirror our historical performance… we will achieve shared savings… We would not be proposing the really large funding improvements that we are proposing today. In fact, just the opposite." It's important to note here that while TennCare has not yet directly cut a service or program, their low reimbursement rates have effectively limited the services available and therefore the number of people who can access promised TennCare services. 
Department of Health
Dr. Lisa Piercey, Commissioner of the Department of Health, alongside her team, presented on behalf of the agency. One of the department's priorities for the upcoming fiscal year, and one of Governor Lee's more favored initiatives, is increased access to dental services in the state. After heeding the Governor's spring 2021 request to convene a statewide stakeholder group, Dr. Piercey presented their recommendations in the form of a one-time, non-recurring $94 million funding package for a 5-year pilot program to address issues affecting dental services access. 
Other spending proposals include improvements to the online licensure program, support for rural health departments and several new departmental positions, including a suicide prevention director, a general council attorney, molecular sequencing staff-person and an environmental health inspector.  
Governor Lee asked Dr. Piercey about whether the most prominent issue facing rural health providers is outdated equipment and other past-due capital investments. Dr. Piercey responded that updated equipment helps to address other major issues, such as a lack of available workforce.
Department of Intellectual and Developmental Disabilities (DIDD)
DIDD Commissioner Brad Turner, Deputy Commissioners Jordan Allen and Andy Kidd and Budget Director Clayton Wells met with the Governor to discuss their budget proposal. Deputy Kidd began by discussing the department's effort to integrate their services with those in TennCare, namely the ECF CHOICES program. Kidd noted that the department is moving forward with a single service model, describing it as essentially the combining of the patchwork of waiver services into one broader model.
In discussing DIDD's proposed cost increases, Deputy Kidd and Commissioner Turner talked about the increased demand and need for better access to Tennessee Early Intervention Systems (TEIS) as a result of the pandemic. The proposed spending for TEIS covers increased enrollment, 25 additional social counselors and a rate increase to TEIS providers. The big investment, however, is expanding TEIS services to Tennessee children aged 4 and 5 to support transition between these early services and elementary school. 
An additional cost increase was requested for TN Achieves, DIDD's program that supports students with ID in postsecondary education. Commissioner Turner talked about the increased interest in from colleges and universities across the state, as well as the desire to expand the program to include access to the state's college of applied technology network. Kidd also noted the budget request for funds to establish an enabling technology lending center. 
DIDD is also requesting a small amount of money for 3 social security benefits counselors to help individuals understand how their benefits will be affected by entering the workforce. Jordan Allen, in noting that the number one reason people avoid attempting to enter the workforce is fear that they would lose benefits, talked about DIDD's stance toward work: 
"What we've told people forever is you're always better off when you work. When you're bringing a paycheck in, you're going to earn more and that's not counting all of the other advantages to employment that we talk about all the time… You will see a benefit reduction which is the intended and appropriate outcome, but you're coming out ahead when you work...." 
However, while employment is an admirable goal and appropriate for many people receiving services from DIDD, it's important to acknowledge that it may not be realistic for others who still deserve services and supports to live their best lives. 
Governor Lee asked about the Katie Beckett program and what DIDD has learned over the first year of its implementation. In response, Commissioner Turner applauded the Governor for his support and said that the program has been life-changing for those enrolled, as well as their families. Importantly, he described learning that sometimes bureaucracy must get out of the way to just allow people to get the services they need. 
Department of Education
Commissioner Penny Schwinn presented the Department of Education budget proposal this year. Schwinn began by highlighting the outcomes of last year's budget initiatives, noting that they've filled their 150,000 seats available for supplemental tutoring as part of the new Tennessee All-Corps tutoring program passed last year in the General Assembly as part of the January special session, as well as the success of the summer learning camps. Schwinn also talked about initiatives, such as designating schools as STEM schools and a teacher recruitment program, made possible by the huge influx of funds as part of the Elementary and Secondary School Emergency Relief (ESSER) payments from the federal government. 
While the DOE didn't go into their specific budget requests, Schwinn asked for funds for traditional costs, such as infrastructure and instructional salaries, but also for funds that would help make the summer learning camps a "legacy project" that would be a permanent feature of the department. 
Commissioner Butch Eley asked about the public town halls that are part of the state's effort to reevaluate the effectiveness of the Basic Education Plan (BEP) as a funding mechanism for the state's schools. Schwinn said that they have heard a lot of what they've heard before, including the need for more school nurses and counselors, as well as the desire for financial education and civics education (which have both been stated priorities of Governor Lee). Schwinn also talked about the diversity of those attending and the focus on the needs of one's own child. Numerous groups have also called for the state to fund schools based on school and student need, rather than on uniform resource costs, as the BEP currently does. 
Department of Human Services (DHS)
Department of Human Services Commissioner Carter jumped right in and requested a relatively small amount from the state of $712,000 in recurring funds. DHS is also accounting for $1.65 billion in increased Supplemental Nutrition Assistance Program (SNAP) dollars, and a little over $3 million in federal dollars for a vocational rehabilitation and mental health collaboration. 
Commissioner Carter then outlined his plan for the vocational rehabilitation (VR) and mental health collaboration. The program is meant to help individuals experiencing mental health challenges get to work, according to Commissioner Carter. Together, VR and the Department of Mental Health and Substance Abuse Services would involve these individuals in supported employment. Carter went further, saying that this "helps to prove our theory that everybody can work" and makes employment the centerpiece of what DHS does. 
Department of Mental Health and Substance Abuse Services 
Commissioner Williams began by thanking Governor Lee for his continued investments and highlighting spending on the expansion of the behavioral health safety net for adults, created a behavioral health safety net for kids, put a school-based behavioral health liaison in each county in the state, expanded the "Creating Homes Initiative" for substance abuse recovery housing and reentry housing for those exiting the justice system and created criminal justice recovery courts. Commissioner Williams also highlighted the impact of the increased access to telehealth for mental services, noting the increased need for mental health care and the improved access that telehealth provided. 
The department requested an increase of $64.7 million in recurring state funds and $42 million in nonrecurring state funds to:
Provide 24/7 mobile support to emergency rooms in high volume locations across the state
Establish new walk-in crisis centers and crisis stabilization units
Support substance abuse treatment facilities to serve 2,460 Tennesseans who otherwise would not have access to these services. 
Further, the commissioner asked for $26 million in one-time funding to pay for 4 new residential treatment facilities to serve 2,500 individuals. Finally, DMHSAS requested $1 million in recurring funds to provide other addiction recovery initiatives. 
Commissioner Williams also requested funding to address the workforce crisis facing the department, noting that behavioral health students from Tennessee are leaving to go work in other states where they can make more money. The department requested nearly $36 million for a 20% rate increase to providers, accounting for the lack of a cost-of-living increase for these workers over the last 10 years. In collaboration with TennCare, DMHSAS launched a workforce group to address the shortage of public behavioral health professionals. The working group identified sign on bonuses, internships and scholarship programs to recruit and retain a workforce that could support the efforts of the department, which would cost a total of $10 million in recurring funds. 
Our Takeaways:
There are three big takeaways from this year's budget hearings that affect Tennesseans with disabilities. First, the state is absolutely flush with money as a result of a huge revenue surplus and massive influx of federal relief funds. How this money is ultimately spent will demonstrate the priorities of Governor Lee, the General Assembly and the state as a whole. Second, some of these funds have been proposed to support Tennesseans with disabilities, but they don't go far enough to sustainably address the underlying flaws in our system: services for Tennesseans with disabilities are not functional or accessible if there are no providers or workforce to implement them. Finally, leaders across departments of state government describe a coordinated and determined effort to push Tennesseans with disabilities into working, regardless of their desire or capacity to do so.