YouTube Training Channel:    https://www.youtube.com/channel/UC5NeDDc1pzWyt0YKDHx015A/videos
      Follow Brain Links on Facebook:    https://www.facebook.com/BrainLinksTN/​   Contact us at: tbi@tndisability.org
---
RESOURCES:
Two Parent Guides:  When Concussion Symptoms Are Not Going Away:  A Guide for Parents of Children Who Are Five and Under and A Guide for Parents of Children Who Are School-Aged.
Signs, symptoms and danger signs, plus what to look for over time and where/how to seek help for symptoms that aren't going away. Contact us for more information: tbi@tndisability.org   Click on each image to download a copy.
Click on each images below to download a copy.
---
   Concussion Management Protocol:  Used by primary care providers, but good knowledge for all.
---
Symptom Tracker:  Track Symptoms, pain level changes, what provokes and what helps.  Good information to take back to the healthcare provider.  
---
 6 Types of Concussion Infographics and Fact Sheet:  Brain Links developed a useful summary for the back of an easy to understand infographic created by ReThink Concussions at the University of Pittsburgh Medical Center.
---
Brainstorming Solutions Tool:  Helpful template for gathering information on person's skills and challenges to facilitate development of solutions.
Great for direct service providers, students and new hires. 
---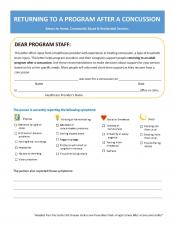 Returning to a Program After a Concussion Letter
This letter offers input from a healthcare provider with experience in treating concussion, a type of traumatic brain injury. This letter helps program providers and their caregivers support people returning to an adult program after a concussion. Use    these recommendations to make decisions about support for your person based on his or her specific needs. Most people will only need short-term support as they recover from a concussion.
---
Hospital to School Transtion Protocol and School Lingo Tools:
Helps rehabilitation units better understand the schools' processes, what they need and how to best facilitate transition back to school.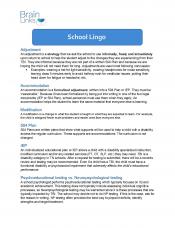 School Lingo is a companion document with the Hosptial to School Transition Protocol.
---
504/IEP Accommodations & Modifications in the Classroom for a Student with a TBI:  Each section is broken down into helpful catefories - developed by the Center on Brain Injury Research & Training
---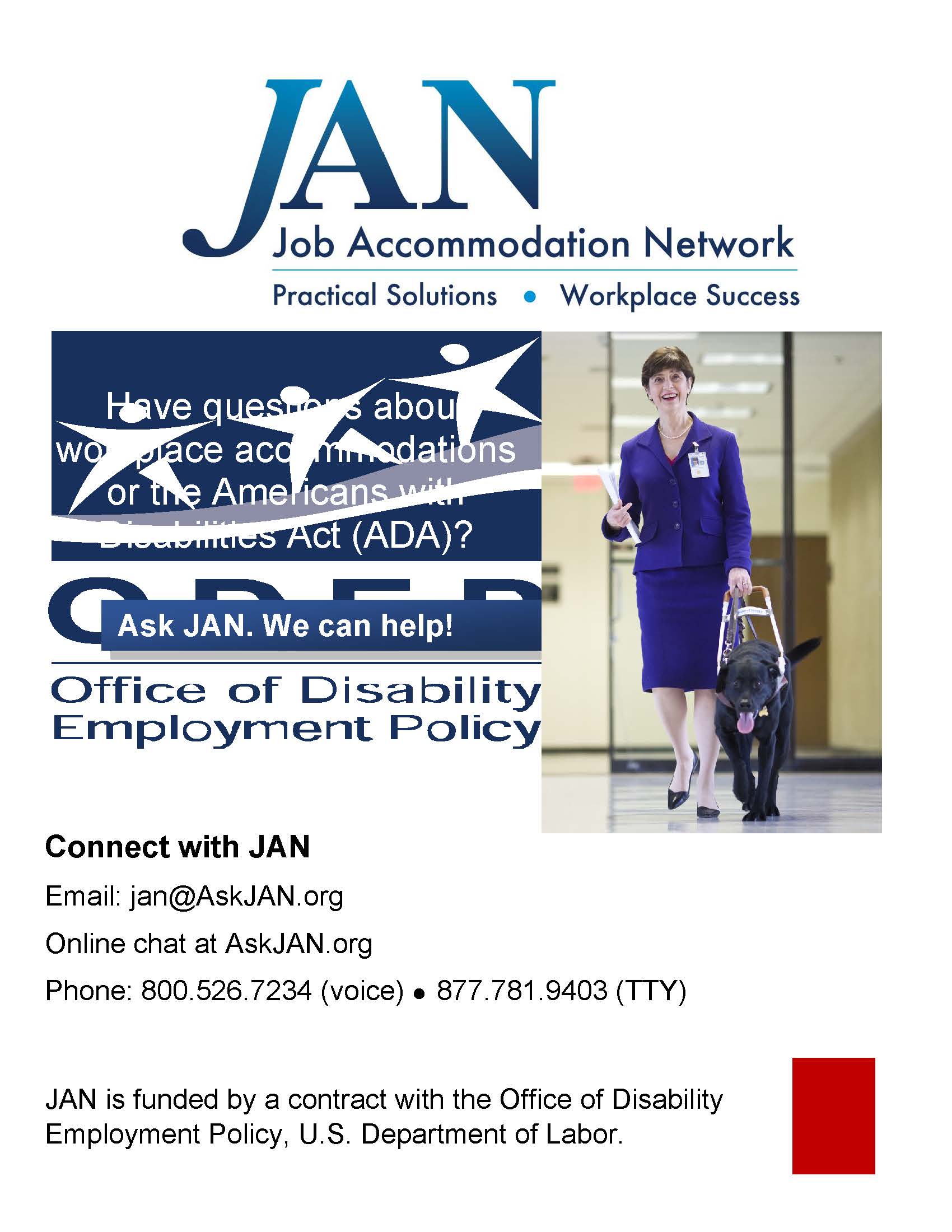 Job Accommodations Network (JAN)
---
---
Center for Disease Control and Prevention: Traumatic Brain Injury & Concussion
What is a Concussion? A concussion is a type of traumatic brain injury, or TBI, caused by a bump, blow, or jolt to the head that can change the way your brain normally works. Concussions can also occur from a fall or a blow to the body that causes the head and brain to move quickly back and forth. Health care professionals may describe a concussion as a "mild" brain injury because concussions are usually not life-threatening. Even so, their effects can be serious.
  CDC: School Nurses & Fact Sheet for School Nurses
  CDC: Concussion Signs & Symptoms Checklist
  CDC: Teachers, Counselors & School Professionals
  CDC: Parents:  Youth Sports;  School Sports &  Parent/Athlete Concussion Information Sheet
  Colorado Department of Education: Brain Injury In Children & Youth and Building Blocks of Brain Development
---
Brain Links is supported by the Administration for Community Living (ACL) of the U.S. Department of Health and Human Services under Grant No. 90TBSG0024-01-00 and in part by the TN Department of Health, Traumatic Brain Injury Program.​
Insert Image: