Concussion and Traumatic Brain Injury: Information For Families is a compilation of four brief, helpful video clips and several state and national websites.
This resource can be viewed by families while at the hospital or anyone needing to better  understand this injury and where to learn more. Click on the image or the following links.
                 English: https://youtu.be/xspCFq3MWZo   Español: https://youtu.be/wxbpHtK0byw
Brain Health: How to Have a Healthy Brain Throughout Life.  By design provides research-based tips for creating a healthy brain, regardless of age. This guide was originally developed to help people with brain injuries recover to the fullest extent possible and to help them prevent or minimize potential negative changes as they age. However, it was quickly realized that the information in Brain Health is beneficial for everyone.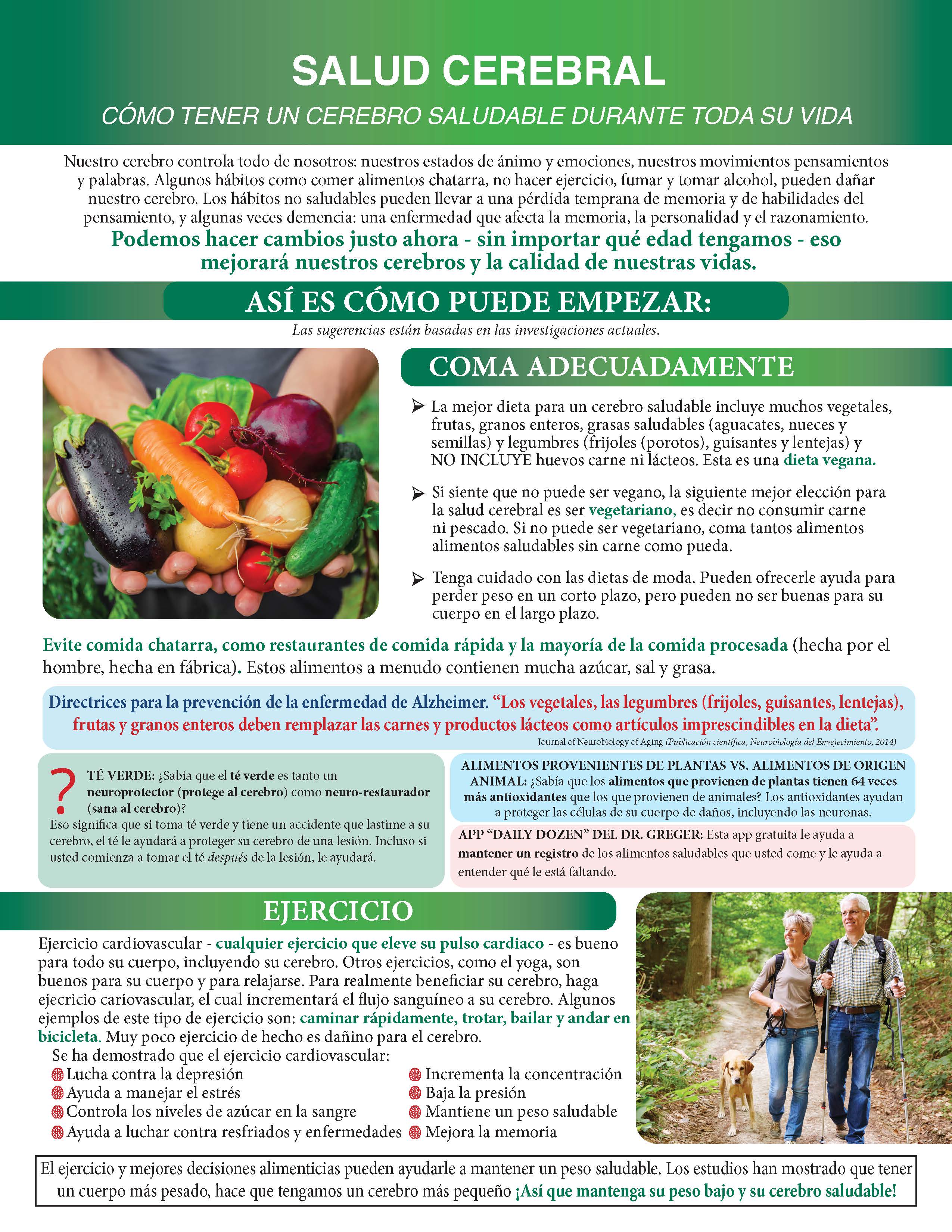 Salud Cerebral: Como Tener Un Cerebri Saludable Durante Toda Su Vida. Nuestro cerebro controla todo de nosotros: nuestros estados de ánimo y emociones, nuestros movimientos pensamientos y palabras. Algunos hábitos como comer alimentos chatarra, no hacer ejercicio, fumar y tomar alcohol, pueden dañar nuestro cerebro. Los hábitos no saludables pueden llevar a una pérdida temprana de memoria y de habilidades del pensamiento, y algunas veces demencia: una enfermedad que afecta la memoria, la personalidad y el razonamiento.
A Guide To Possible Changes After Brain Injury: For School-Aged Children and Adults.  By design, the Guide is best when distributed by rehabilitation personnel in inpatient and outpatient therapy programs and by medical personnel in trauma units, pediatrician's offices, family practices, neurology offices, surgical offices, and other specialty offices. It is meant to be given to anyone who has sustained a diagnosed brain injury, as well as anyone who sustained a significant trauma where they may experience brain injury symptoms and downstream consequences; even if they do not show early symptoms or early symptoms seem to have cleared.
Una Guía Para Posibles Cambios Después De Una Lesión Cerebral.  Esta guía fue diseñada a ayudar a las personas a observar cambios que pueden aparecer después de una lesión cerebral.  Los cambios después de una lesión cerebral pueden suceder incluso años después de que termine el tratamiento de una persona, aún si ha completado su rehabilitación, hospitalización, etc. Esta guía da ideas acerca de cómo abordar estos cambios. También dará algunas sugerencias para mantener su cerebro saludable durante toda su vida.
Two Parent Concussion Guides, English & Spanish: When Concussion Symptoms Are Not Going Away:  A Guide for Parents of Children Who Are Five and Under and A Guide for Parents of Children Who Are School-Aged.
Adult Concussion Guide, English & Spanish:  When Concussion Symptoms Are Not Going Away: A Guide for Adults With Concussion.
Signs, symptoms and danger signs, plus what to look for over time and where/how to seek help for symptoms that aren't going away. Contact us for more information: tbi@tndisability.org   Select an image to download.
Personal Guide for Everyday Living:  A tool to help people with TBI (especially mild TBI) better understand what conditions make things harder and what the person can do about it. Best if used as part of a conversation with the clinician.  English and in Spanish.
---
TN TBI Service Coordination Program: There are currently eight Service Coordinators located in various agencies across the state providing assistance to people with brain injury and family members. Services are free of charge.
The Tennessee Department of Health Traumatic Brain Injury (TBI) Program released the Return to Learn/Return to Play Concussion Management Guidelines designed for sport and non-sport related concussions.  This  document includes information regarding concussions/TBIs, as well as information about returning to learn and play after a concussion.
Hospital to School Transtion Protocol and School Lingo Tools:
| | |
| --- | --- |
| | |
| Helps rehabilitation units better understand the schools' processes, what they need and how to best facilitate transition back to school. | School Lingo is a companion document with the Hosptial to School Transition Protocol. |
---
504/IEP Accommodations & Modifications in the Classroom for a Student with a TBI:  Each section is broken down into helpful catefories - developed by the Center on Brain Injury Research & Training (CBIRT)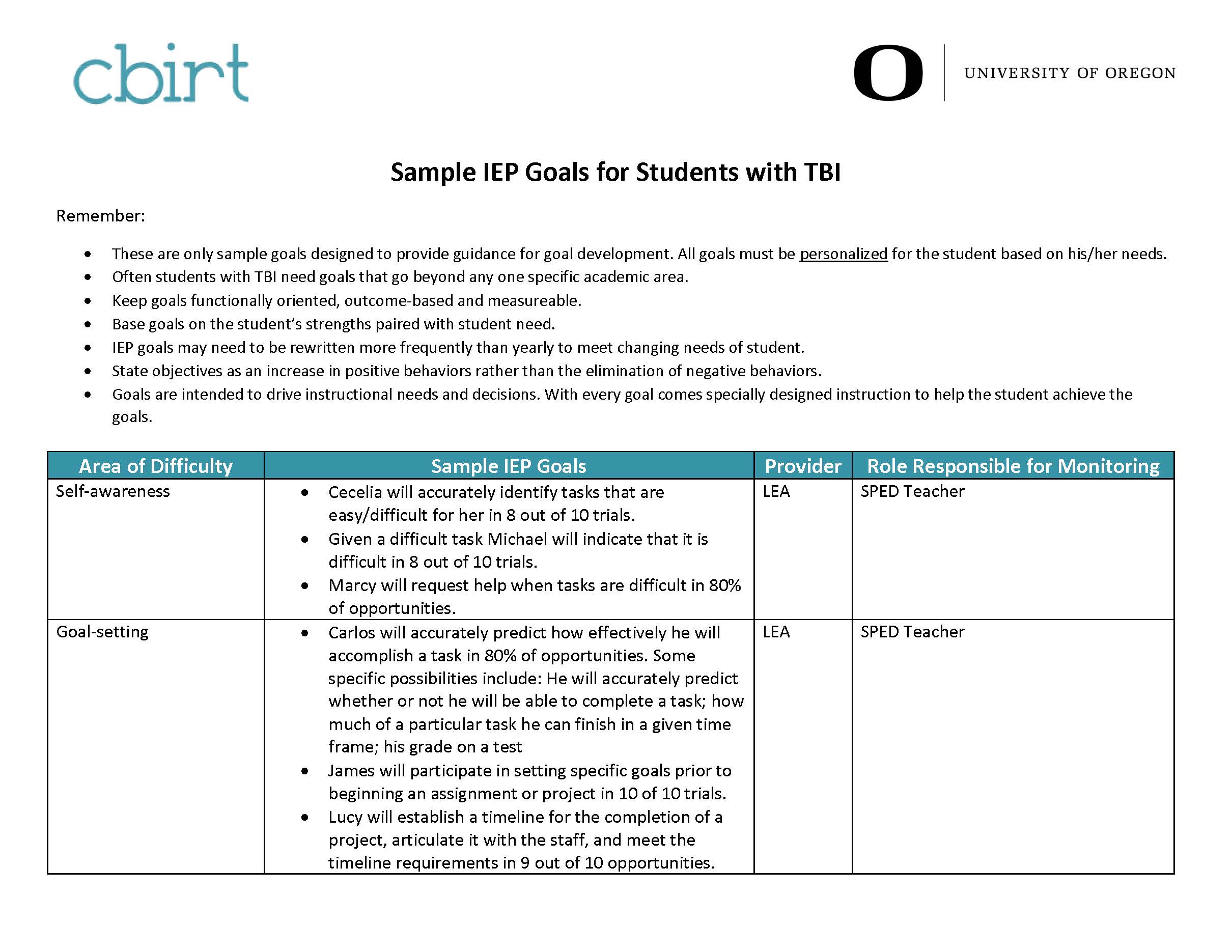 CBIRT IEP Sample Goals for Students with TBI
CBIRT Symptom Log Progress Monitoring
---
Colorado Department of Education: Building Blocks of Brain Development
Brain Injury in Children and Youth:  A Manual for Educators
---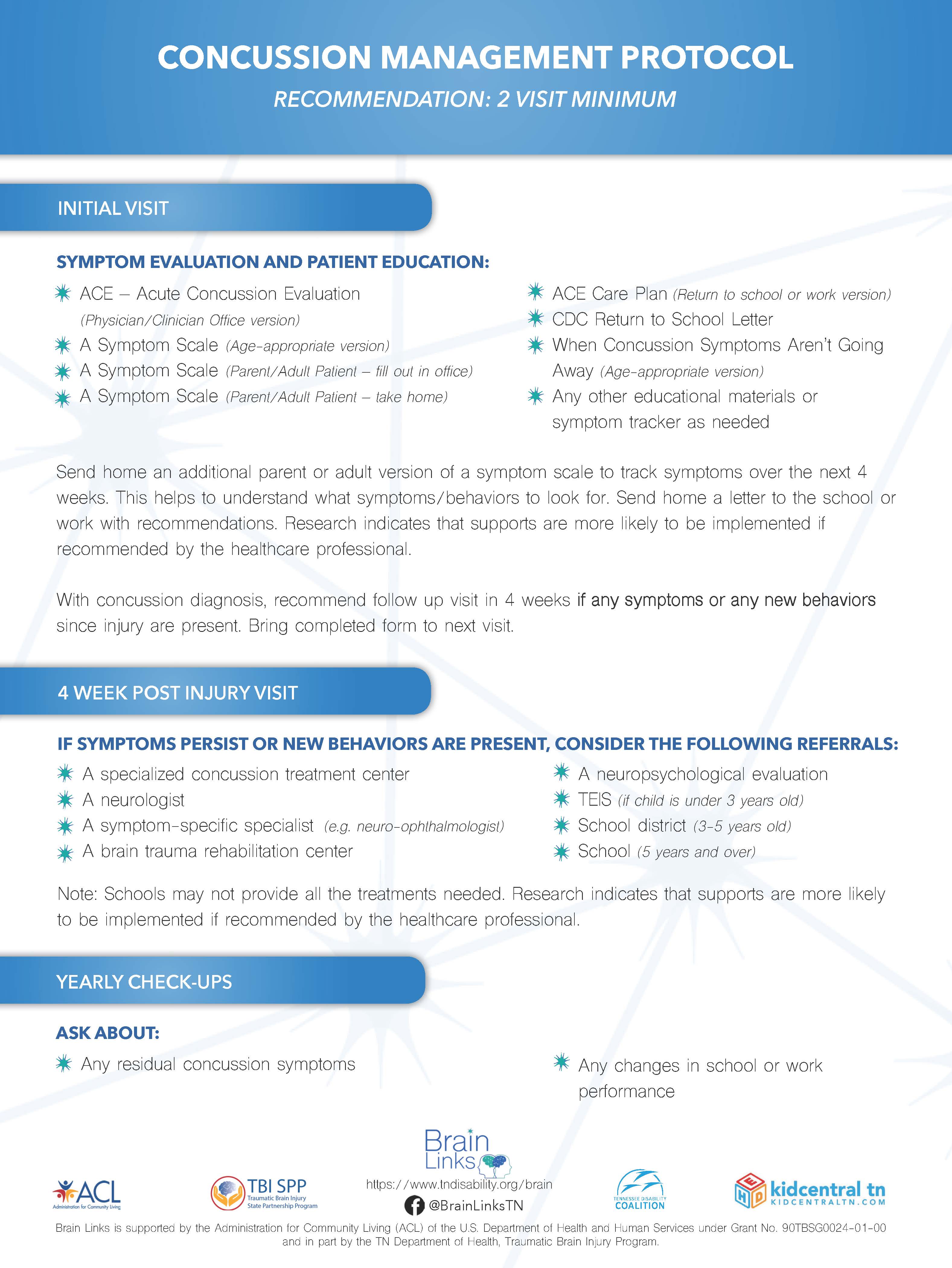 Concussion Management Protocol:  Used by primary care providers, but good knowledge for all.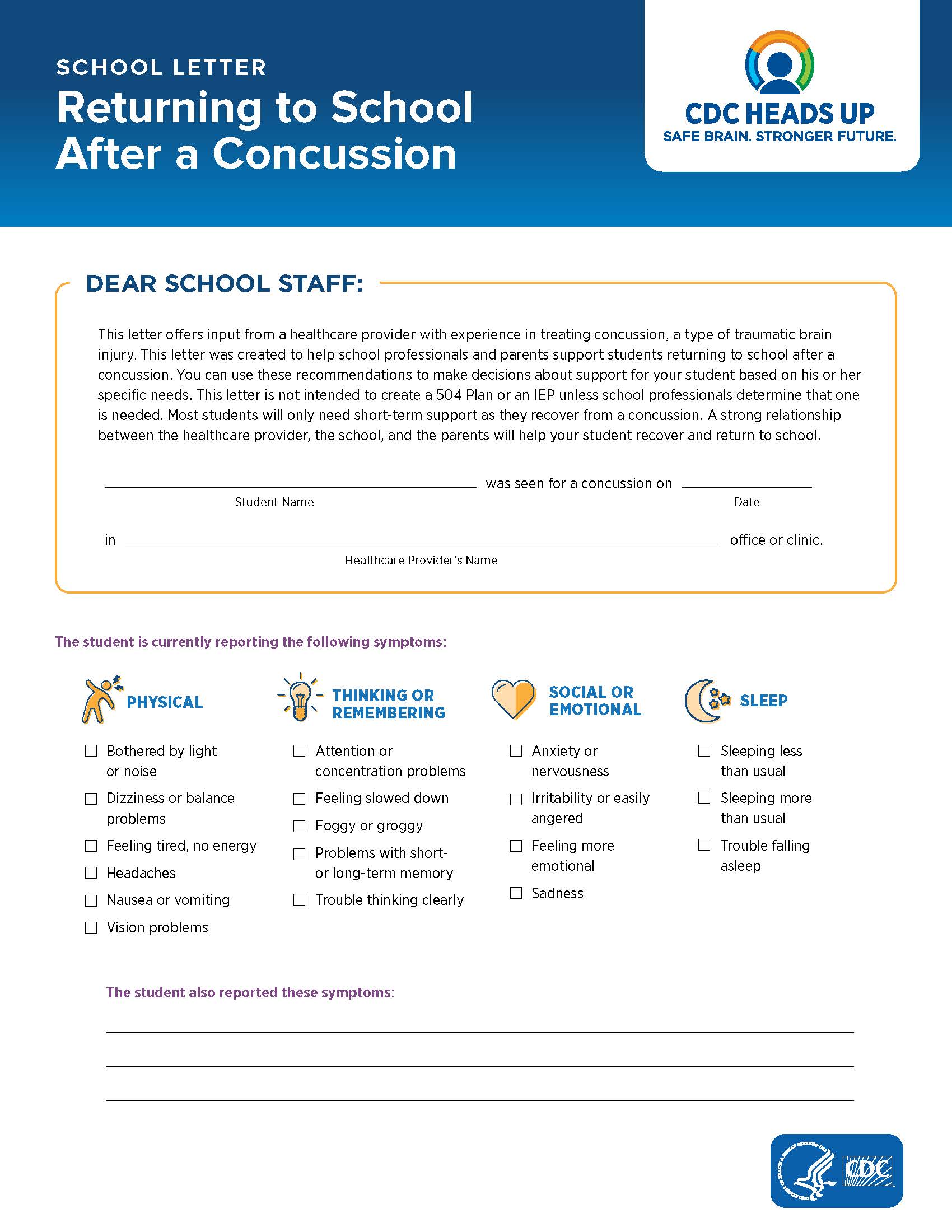 CDC Return to School Letter
---
Symptom Tracker:  Track Symptoms, pain level changes, what provokes and what helps.  Good information to take back to the healthcare provider.  
Concussion-Brain Injury Alert & Monitoring Form:  For use in academic, school nurse or case manager file to serve as a reminder of the TBI. Also alerts others who may start working with the child.
---
6 Types of Concussion Infographics and Fact Sheet:  Brain Links developed a useful summary for the back of an easy to understand infographic created by ReThink Concussions at the University of Pittsburgh Medical Center.
---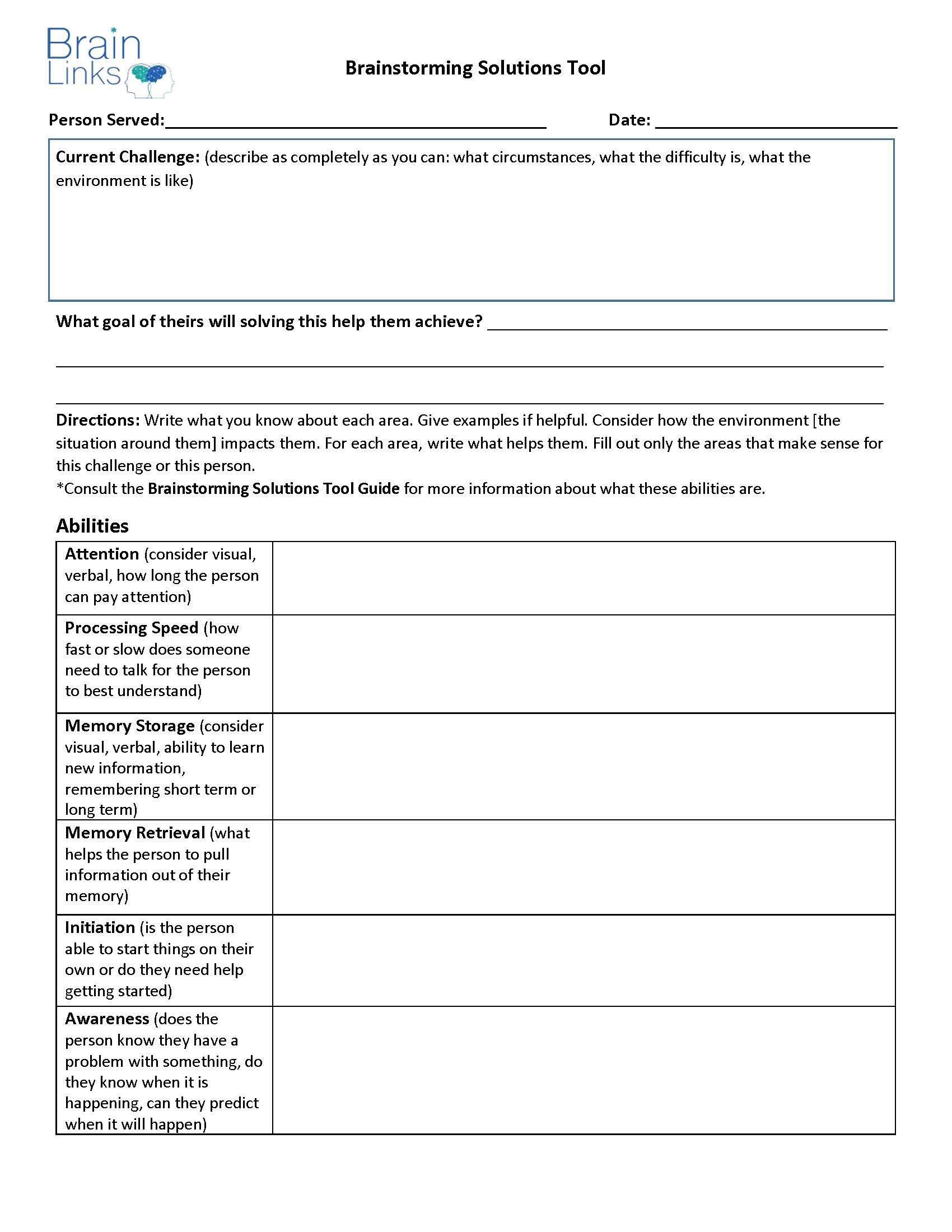 Brainstorming Solutions Tool:  Helpful template for gathering information on person's skills and challenges to facilitate development of solutions.
Great for direct service providers, students and new hires.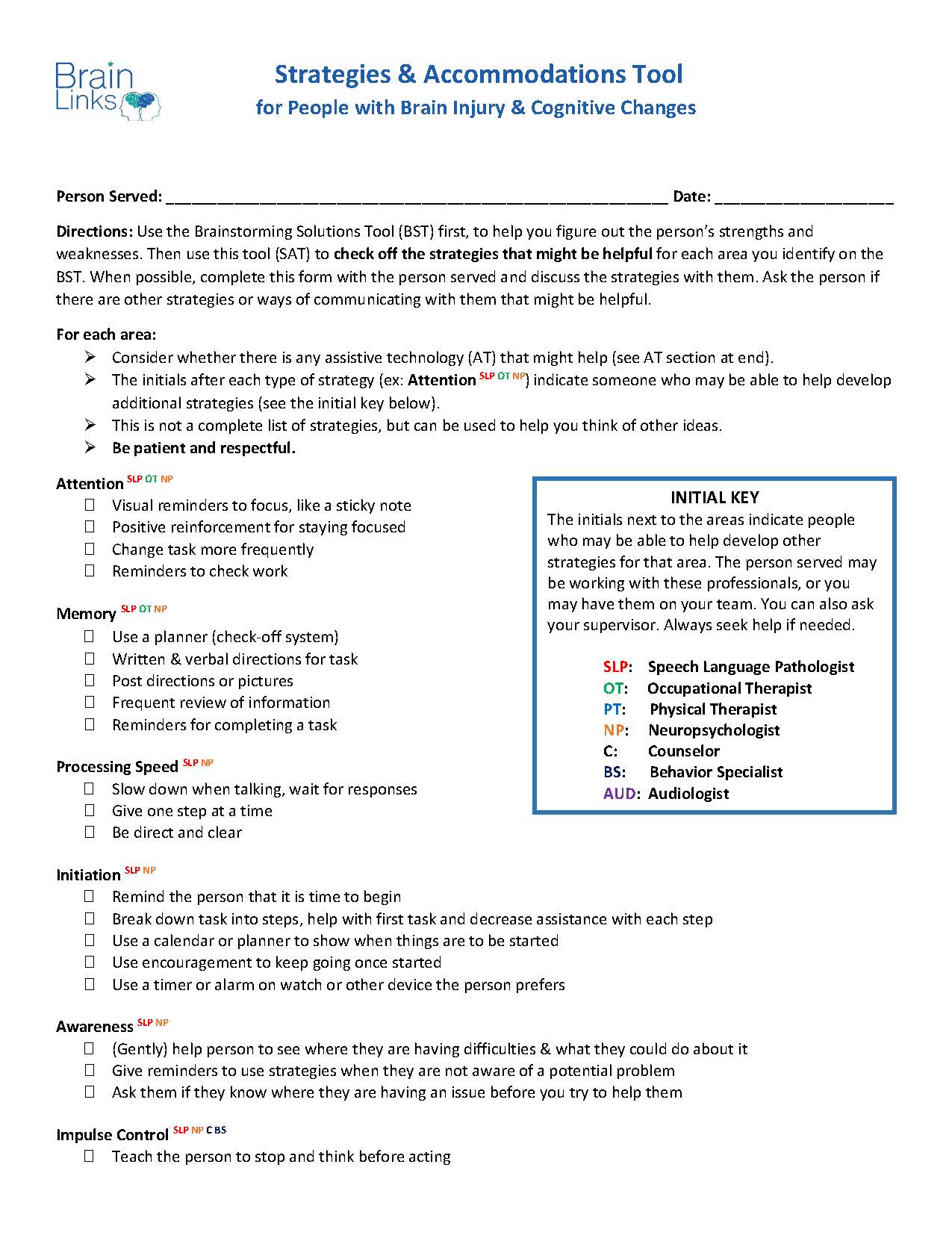 Strategies & Accommodations Tool for People with Brain Injury & Cognitive Changes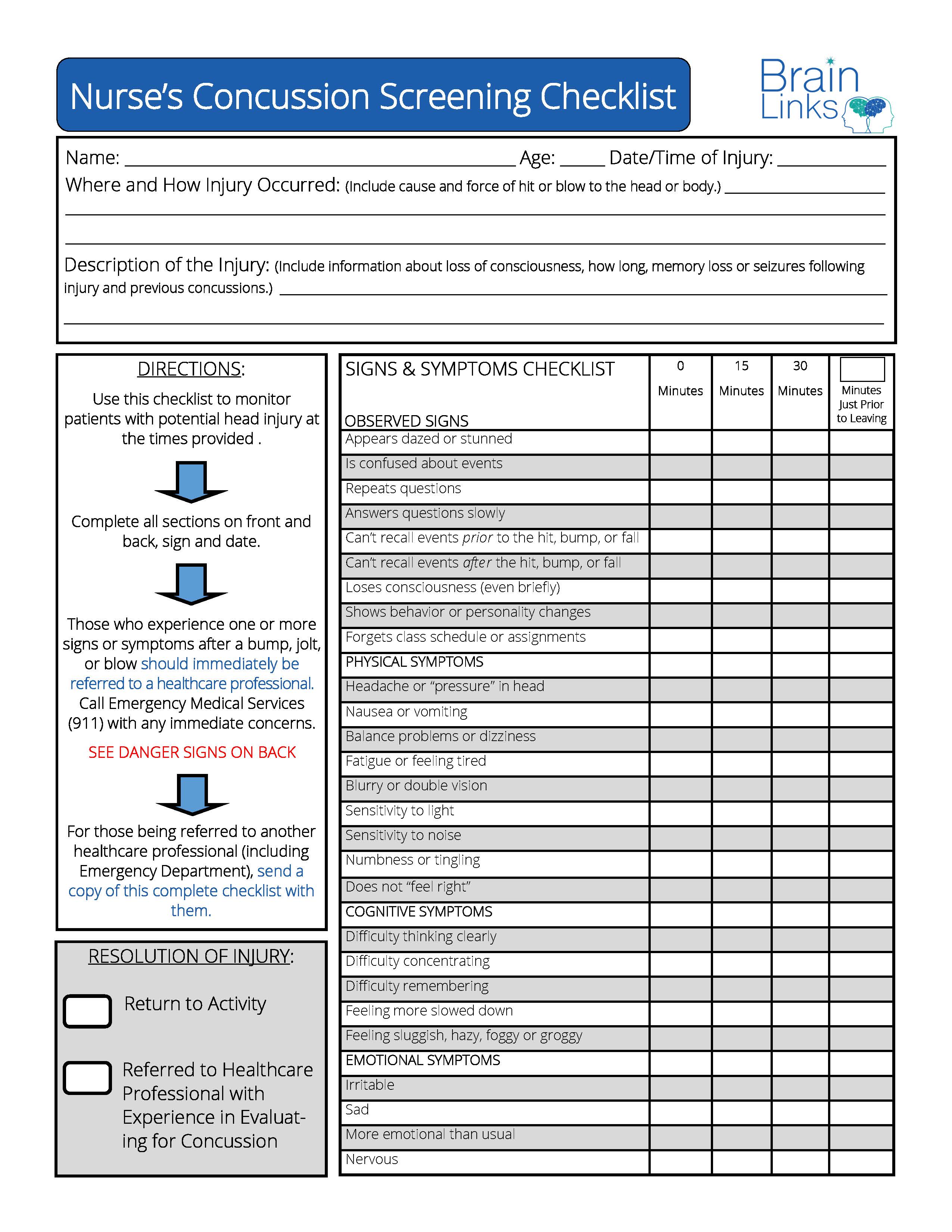 Nurse's Concussion Screening Checklist, adapted from the CDC.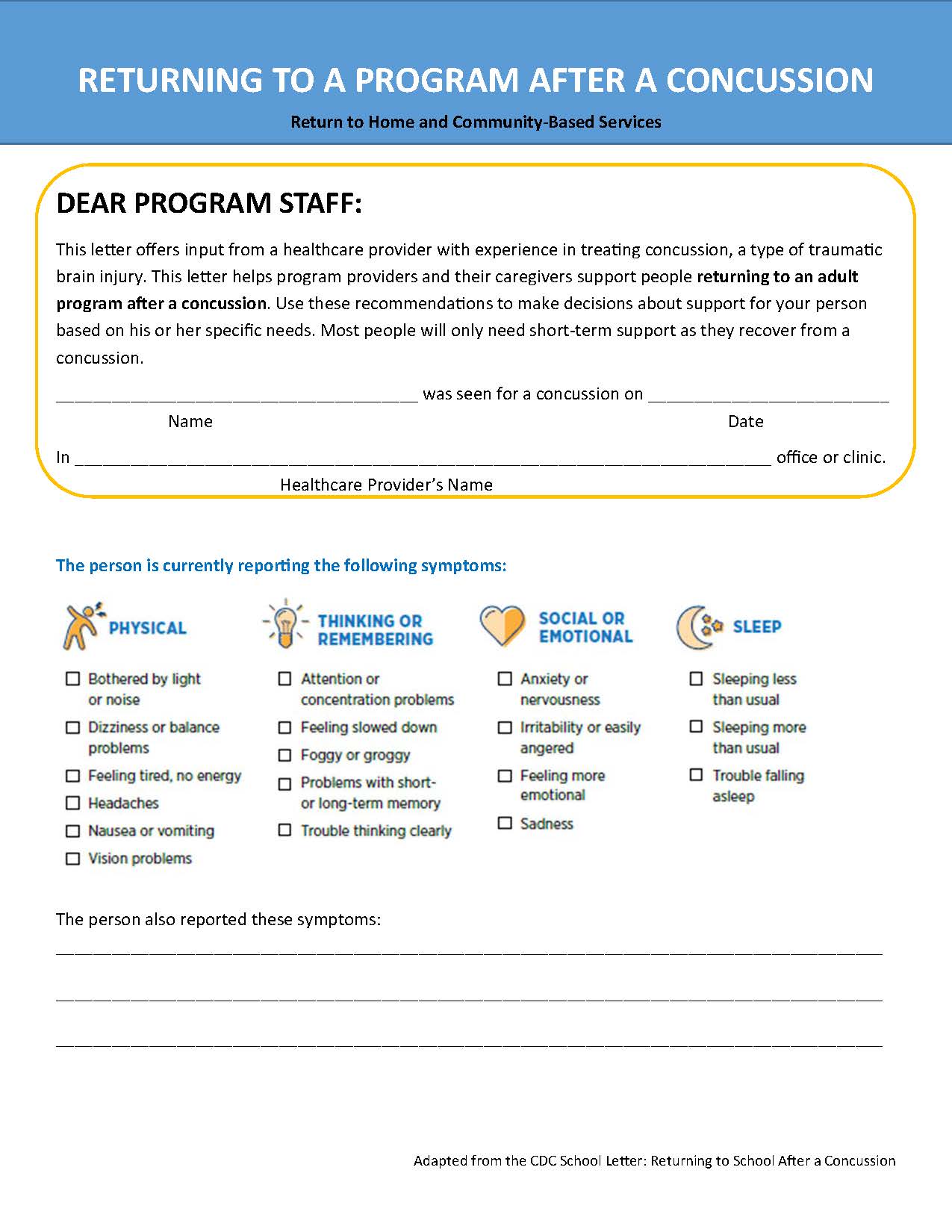 Returning to a Program After a Concussion Letter
This letter offers input from a healthcare provider with experience in treating concussion, a type of traumatic brain injury. This letter helps program providers and their caregivers support people returning to an adult program after a concussion. Use these recommendations to make decisions about support based on his or her specific needs. Most people will only need short-term support as they recover from a concussion.
---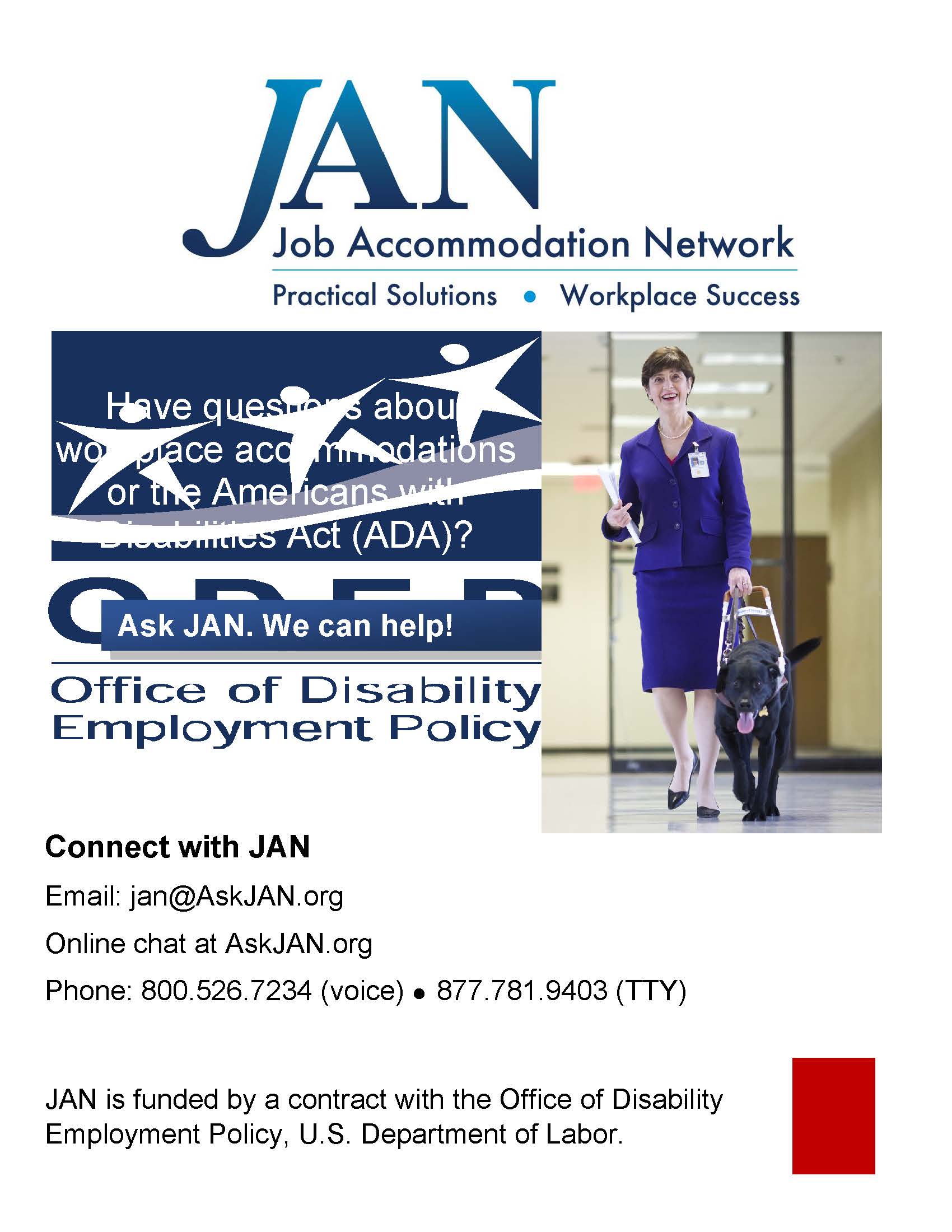 Job Accommodations Network (JAN)
---
When a child's brain is hurt, it has the potential to impact the ability to return to school and perform the same as before the injury occurred. The Center on Brain Injury Research and Training (CBIRT) provides information and resources for parents and educators to help a child's transition back to school.
---
Brain Links is supported by the Administration for Community Living (ACL) of the U.S. Department of Health and Human Services under Grant No. 90TBSG0024-01-00 and in part by the TN Department of Health, Traumatic Brain Injury Program.​